The Turtle mosaic is the first mosaic I have ever done, but not the first I ever finished 🙂 I worked on it at the amazing mosaic class I found in 2016 run by Cat Monstersmith.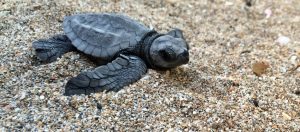 Every Thursday from 7PM to 9PM you can come to Hackney City Farm and join her fantastic and relaxed class. I absolutely loved it! The knowledge and the support I have received helped me to discover my love for mosaics. It was also the first place where after years of denial, I have allowed myself to be creative.  I highly recommended it, it's an amazing group!
For the design I used an old photo I took in Bali of tiny turtles, just out of their egg shells. I used MDF board and ceramic tiles. It has been finished with vanilla grout. Size: 30x65cm.
Here is a few more images of it:
And a short animation of how it was created: